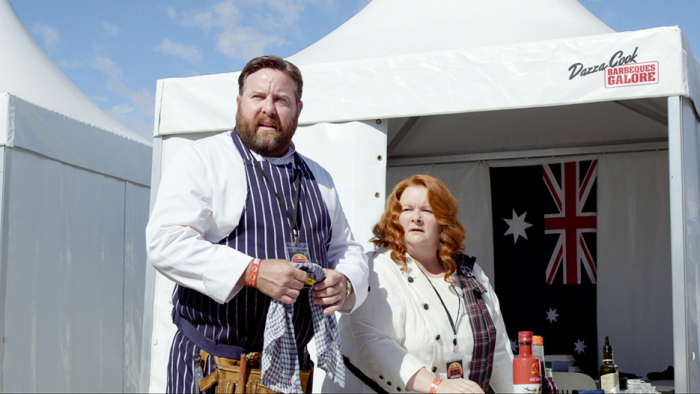 Thanks to Label Distribution and Madman Entertainment we have five in-season double passes to give away to BBQ. The film stars Shane Jacobsen (Kenny, Oddball, The Dressmaker), Magda Szubanski (Babe, Kath & Kim, Happy Feet), Julia Zemiro (RocKwiz, Eurovision Song Contest), Nicholas Hammond (The Sound of Music, Mao's Last Dancer) and Manu Feildel (My Kitchen Rules, Ready Steady Cook, MasterChef Australia).
Here's a synopsis of the film:
Laid-back suburban everyman Darren "Dazza" Cook loves to entertain his friends and neighbours with his weekly backyard barbecues, utilizing the ancient rum-barrel barbecue that family legend prescribes as having come from Captain James Cook's Endeavour.
Unexpectedly thrust into the limelight by his employer when an International BBQ Festival comes to town, Dazza needs to sharpen up his act, so enlists the guidance of the mysterious Scottish chef known only as "The Butcher".
As Dazza hones his chops perfecting the perfect steak, his 12-year-old son Jayden, is challenged to prove the dubious Cook family ancestral link, with unexpected results.
To be in the running to win one of the five in-season double passes send an email to prizes@timeoffmedia.com.au with "BBQ" in the subject line. Winners will be sent an e-ticket/s by return email. QLD addresses only. One entry per person. No entries via third party sites. Winners must subscribe to our newsletter (see home page). Comp closes February 15.
View the trailer here.
View the Twitter account here.
View the Facebook page here.
View the website here.
BBQ opens on February 22, 2018.