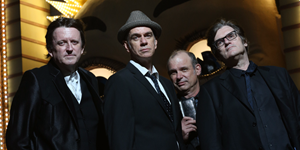 Sydney musician John Kennedy started his music career in his hometown Brisbane. He wrote a few songs about Brisbane – most of them about leaving town. It seemed as though the feelings were mutual when Kennedy played a gig at Ric's Cafe in the Valley a few years ago and nobody turned up. The story, sad as it is, at least produced another "leaving Brisbane" song: Brisvegas.
Over the last few years, it seems as though a little bit of love has been rekindled. Since 2015, Kennedy has been doing shows at the Junk Bar in Ashgrove with various members of his band. Each show has been warmly received in the sold out room. The most recent show in June was the launch of the new album, JFK and the Midlife Crisis.
Now Kennedy returns to the Junk Bar with his full band for two shows in December. John Kennedy's 68 Comeback Special features ex-red Wiggle Murray Cook on lead guitar, original Love Gone Wrong drummer Peter Timmerman and former Pop Mechanics leader Paul Scott on bass. Together they develop Kennedy's urban and western stylings, bringing new strength to performances that blend pop, rock, folk and country. At the Junk Bar they will play songs from the new album, Kennedy's urban and western hits and maybe even some of those songs about leaving Brisbane.
John Kennedy's 68 Comeback Special at the Junk Bar, Ashgrove from 8pm on Friday 15 December with River Heads and 8pm on Saturday 16 December with The Gatekeepers Tix $23.50 at Oztix and at the door if not sold out earlier.