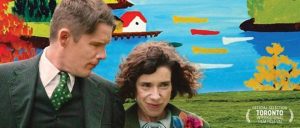 Starring Sally Hawkins, Ethan Hawke
Directed by Aisling Walsh
Reviewed by Michael Dalton
Rating:
Maud Dowley, a renowned Canadian folk artist, was born in Nova Scotia in 1903. She was 32 when her father died and her mother passed away two years later. Due to her health status, juvenile rheumatoid arthritis, her brother inherited the family home. Soon after that she moved in with her aunt. Maudie, Aisling Walsh's scenic and inspiring movie (in development for thirteen years), picks up from that point in her life. In the role she was born to play, Sally Hawkins shows us this talented, meek, and comically wise girl in all her glory, and Ethan Hawke as Everett Lewis, the gruff, blustery man she grew to love, matches her every step of the way. Unlike other films that tell artist stories, Walsh keeps it all in a low key and doesn't let the subject influence the style as it has in films like Mr. Turner and Basquiat. There's no need for issues to be pressed. This remarkable story needs no help. Maud Lewis painted by looking out of her life, and into a kaleidoscopic world. I can't remember the last time a film moved me this deeply.
Due to her affliction, Maudie walked with a curious gait, and the unaware must have assumed her to be dim witted. She was in fact sharp as a tack. She met Everett, an orphan, a miser, and a local fisherman, through an ad he placed. He was looking for someone to keep his small, ramshackle cottage clean and have a meal waiting for him. Initially startled she would accept the working conditions, he treated her worse than a stranger (in one and thankfully only one scene he belts her for teasing him) but slowly affection developed, and they married. At first Maud painted flowers and birds on the walls of their home and then she produced postcards she sold to the people Everett delivered fish to. Small canvases followed (her lack of mobility limited her output to only five larger works).  By the time of her death from emphysema, she'd left her mark all over their cottage (it now sits in the Nova Scotia Art Gallery in Halifax).
There is much debate about the story as Walsh tells it. As we see here, Everett eventually softened and encouraged his wife's work but according to a book by Lance Woolaver, his parents, among Maud's first customers, witnessed cruelty and said that Everett kept her on a strict schedule with her work and kept friends away from her. Still, in the grander scheme, these elements, however true, recede as Hawkins draws us deeper into the life of this indomitable woman and the challenges she faced as the illness twisted her body. By the end of the film, she's almost crippled but her spirit, determined to the last, keeps forging. It is a miraculous story, and heartbreaking when you gaze at her work. There's a tender scene where she visits her friend Sandra (Kari Matchett) who lives in a beautiful home with views from her many windows. Maudie, saddened by her failing marriage, sits and gazes out the window as a bird flies across the sky. "It's all you need", she whispers, "the whole of life, already framed".