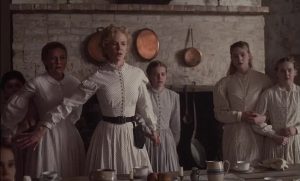 The Beguiled
Directed by Sofia Coppola
Starring Nicole Kidman, Colin Farrell, Kirsten Dunst, Elle Fanning
Reviewed by Michael Dalton
Rating:
Sofia Coppola's The Beguiled, a remake of Don Siegel's excellent 1971 film, may well be the most dangerous of her career. It's airy, smooth, smoky, and lethal. Coppola's debut, The Virgin Suicides, was one of those out-of-nowhere experiences that recalled the sinister nature of Picnic at Hanging Rock. Females dominated the scene while the males, standing at full mast, lurked nearby. A story of prickly sensations and sensual allure, The Beguiled is fodder for the same setup. It follows the adventures of John McBurney, a deceitful, injured soldier who ignites the locked-up passions of a small all-female seminary in Virginia where he seeks shelter and safety from the merciless Civil War. In Siegel's version, the soldier was played by Clint Eastwood, at his physical peak, and the school, lorded over by Martha (Geraldine Page), housed a black maid (Mae Mercer), and a handful of students and their teacher Edwina, played with sweaty intensity by Elisabeth Hartman. Coppola, adjusting the action (if only slightly) has dispensed with the maid (a miscalculation) and replaced Page with Nicole Kidman, stiff and upright, and Hartman with Kirsten Dunst, ethereal and ready to pounce. Eastwood has been replaced with Colin Farrell, a wise choice. He's brimming with the same macho appeal. Curiously though Coppola, as usual more content to show us the story rather than actually tell it, holds the sexual angles back and encourages us to admire it rather than bathe in it.
Coppola took the award at Cannes this year for her directorial effort here and it's easy to see why. She does deserve praise for what she's created. It's very much a bookend to The Virgin Suicides. The aesthetic is just as soft, eerie, and inviting. She's clearly fascinated by the sexuality of her characters, the pull of carnal desire, and the placing of the cat among the pigeons, as it were. But, despite the beautiful angles (and they really are), Coppola keeps it all too poised. You want someone to loosen up (Elle Fanning's temptress is the only one having any fun) and howl. Farrell is seductive and calculating, and more than capable of sending the collective temperatures soaring but Coppola's content to let her camera admire him. When he's enraged and storming around the mansion, it's over too soon.  There is an interesting scene where Martha bathes him (originally the maid's scene, and a memorable one) but as her hands venture toward his nether regions they seem to lose their nerve. Why, pray?  But, there's also a deliciously camp scene where Martha commands one of the students, "Go to the smokehouse and get me the saw, now!" Fans of Mommie Dearest will be cheering.
There are elements from Siegel's version that, in this too touchy era, Coppola avoids. The opening scene where Eastwood bestows a firm kiss on his 12 year-old saviour after growling "You're old enough!" is understandably missing as is Martha's incestuous history with her late brother and her erotic dream about sharing McBurney with Edwina. These controversial elements jacked up the tension and gave the movie its tantalising mystery (in Page's hands it seemed deadly) but it feels like Coppola feared the overtones, the layers. Still, The Beguiled works in spite of these alterations. Its beautifully cast and photographed and unlike Marie Antoinette (an orgiastic exercise in art direction) and The Bling Ring (an orgiastic look at teen mischief) Coppola maintains a balance. The final shot, and it's a chilling one, does speak loud and clear. The female is the deadlier of the species.