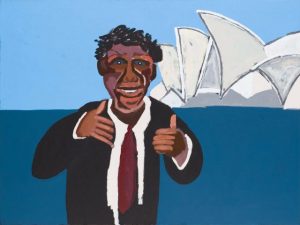 NAMATJIRA'S LEGACY CELEBRATED IN FIRST CHAPTER OF REIMAGINED AUSTRALIAN COLLECTION AT QAG
The first chapter in the newly reconfigured 
Australian Collection display
 at the Queensland Art Gallery is now open, leading with an exploration of the life and lasting legacy of Albert Namatjira.
Queensland Art Gallery │ Gallery of Modern Art (QAGOMA) Director Chris Saines said 'Indigenous Australian Collection: Namatjira Story' would focus on one of the largest thematic holdings in the Gallery's Collection, including a special focus on the Hermannsburg School art movement that began at the Lutheran mission of Hermannsburg in Central Australia, also Namatjira's birthplace, in the 1930s.
'Namatjira occupies a significant place within Australian art history, being the first widely recognised Indigenous artist. His work Western MacDonnells c.1945 – featured in the display – was the first by an Aboriginal person to enter the QAGOMA Collection, in 1947,' Mr Saines said.
'We believe this initial unveiling of the reimagined Australian Collection – highlighting Namatjira's legacy – is a fitting display to coincide with the 50th anniversary of the 1967 Referendum.'
'Namatjira's famous landscapes will be on display, along with the works of his five sons, artworks by Namatjira's great-grandson Vincent Namatjira, a comprehensive display of watercolours by Hermannsburg School artists, and pottery by the Hermannsburg Potters. Other artists featured include Ginger Riley and Lin Onus, alongside William Dargie's Archibald Prize winning Portrait of Namatjira 1956.'
In late September the Gallery will continue to unveil its newly reconfigured Australian Collection display when the Win Schubert and Josephine Ulrich Galleries reopen at QAG after a major storage upgrade.
From 29 September, the new Australian Collection display will capture major historical moments from first contact to colonisation, and exploration to immigration, with an emphasis on the Queensland experience.
'The re-opening of these spaces brings to life our vision to draw out key strengths and fresh narratives in our extensive Australian holdings. We are thrilled to reveal an exciting reimagining of the Australian Collection' Mr Saines said.
'The new display will bring the Indigenous and Contemporary Australian collections into conversation with our historical holdings, and explore stories about Queensland and Brisbane from the region's own perspective.'
'This is the first time that QAG has attempted to truly integrate Aboriginal and Torres Strait Islander works alongside the familiar non-Indigenous artists of this country, to tell a fuller story of Australian art.'
Mr Saines said major new commissions by artists Helen Johnson, Daniel Boyd, Dale Harding, Alick Tipoti and Sonja Carmichael would also feature.
Among the celebrated and iconic artworks returning to permanent display are those by Gordon Bennett, Arthur Boyd, Rupert Bunny, William Dobell, Ian Fairweather, Ethel Carrick Fox, R. Godfrey Rivers, Grace Crowley, Sam Fullbrook, Rosalie Gascoigne, LJ Harvey, Isaac Walter Jenner, Emily Kngwarreye, Vida Lahey, Sidney Nolan, Tony Tuckson and many others.
Portraits from the colonial period up to the present will feature, along with representations of the Australian landscape. Diverse approaches to abstraction will also be a highlight, along with a major display of works from Indigenous artists from the Western desert.
For more information visit www.qagoma.qld.gov.au