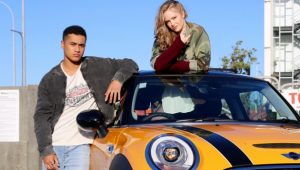 Thanks to our friends at Studio Canal we have five in-season double passes to give away to Pork Pie – in cinemas May 4.
Here's a brief synopsis: 
Jon (Dean O'Gorman, The Hobbit Trilogy, Trumbo), a charming but out-of-luck novelist, musters the bravery needed to try and win back the love of his life by surprising her at a friend's wedding. One problem: he's in Auckland and the wedding is in Wellington. After a failed attempt to make the journey south in his bomby Holden, Jon hitches a ride with Luke (James Rolleston), a sparky young dude driving a fancy new (and, unbeknownst to Jon, stolen) yellow Mini Cooper. Soon after, undercover vegan-activist Keira (Ashleigh Cummings – Miss Fisher's Murder Mysteries) climbs through the fast food drive-through window into the Mini bound for Wellington and the Blondini gang of three are formed. As they journey south, the most epic road trip of their lives ensues. To add to Jon's romantic struggles, he and his two new mates become accidental outlaws on-the-run and soon have a frenzy of police and media hot in their pursuit… A wild ride across the magnificent scenery of New Zealand.
To be in the running to win one of the five double passes passes send an email to prizes@timeoffmedia.com.au with "PORKPIE" in the subject line. Entrants must be subscribers to our newsletter (see home page). Winners announced by return email – you must be able to attend the screening. QLD addresses only. One entry per person. No entries via third party sites. Comp closes May 04, 2017.
Trailer: https://youtu.be/wPJpLfKG1AI