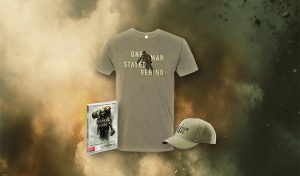 Thanks to our friends at Icon  we have four very special Hacksaw Ridge packs to giveaway. The packs contain a t-shirt, a cap and a DVD of the film. 
Here's a brief synopsis:
Winner of 9 AACTA awards & nominated for 6 Oscars, This all-Australian production marks the triumphant return of Academy Award winner, Mel Gibson to the Director's chair. Hacksaw Ridge is the extraordinary true story of army medic Desmond Doss (Andrew Garfield) who, in Okinawa during the bloodiest battle of WWII, single-handedly saved 75 men without firing or carrying a gun. Rejected for his beliefs, Doss fought against prejudice amongst the ranks and at the highest level for the right to serve under his terms. He went on to distinguish himself as a unique hero, rescuing the wounded – one by one – from behind enemy lines and lowering each of them down the infamous ridge to safety. Injured after being hit by snipers and grenade fire, Doss went on to become the first conscientious objector awarded the Congressional Medal of Honor, which is the highest military honour in the US, awarded for personal acts of valour above and beyond the call of duty.
To be in the running to win one of four packs send an email to prizes@timeoffmedia.com.au with "HACKSAWRIDGE" in the subject line. Entrants must be subscribers to our newsletter (see home page). Winners announced by return email – please include your best postal address. QLD addresses only. One entry per person. No entries via third party sites.
Check out our interview with one of the film's stars Teresa Palmer here http://www.tommagazine.com.au/2016/11/03/teresa-palmer/