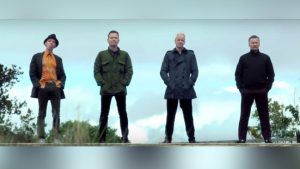 T2 Trainspotting
Thanks to our friends at Sony Pictures we have 5 in-season double passes to giveaway to see Get Out.
So what's it all about?
Well, first there was an opportunity…then there was a betrayal. Twenty years have gone by. Much has changed but just as much remains the same. Mark Renton (Ewan McGregor) returns to the only place he can ever call home. They are waiting for him: Spud (Ewen Bremner), Sick Boy (Jonny Lee Miller), and Begbie (Robert Carlyle). Other old friends are waiting too: sorrow, loss, joy, vengeance, hatred, friendship, love, longing, fear, regret, diamorphine, self-destruction and mortal danger, they are all lined up to welcome him, ready to join the dance.
The film is directed by Danny Boyle and reunites the original cast: Ewan McGregor, Ewen Bremner, Jonny Lee Miller and Robert Carlyle
To be in the running to win one of two prize packs (including a in-season double pass, a t-shirt a soundtrack CD) or one of ten passes send an email to prizes@timeoffmedia.com.au with "T2" in the subject line. Entrants must be subscribers to our newsletter (see home page). Winners announced by return email – please include your best postal address. QLD addresses only. One entry per person. No entries via third party sites.
T2 is in cinemas now.  Trailer – https://www.youtube.com/watch?v=EsozpEE543w