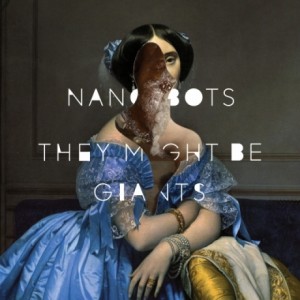 They Might Be Giants have perfected their original sound over the past three decades. The two-time GRAMMY winning Brooklyn originals return with electrifying pop melodies and just enough bass clarinet on their 16th studio album. Created at the private studio of their long time collaborator and producer Patrick Dillett (David Byrne, Mary J. Blige, Tegan and Sara), Nanobots will be released March 8, 2013 via Breakaway Recordings and distributed through MGM.
Nanobots finds the band in fine form. Blending the band's signature storytelling, some dueling horns and sly humor, "Call You Mom" is a pop gem. Title track "Nanobots" puts a dark cartoonish spin on the world of technology while the call and response chorus and percussive guitar line of "You're On Fire" will get everyone's toes tapping.
They Might Be Giants' innovative Dial-A-Song service and imaginative high concept, low budget music videos stood the band apart early in their career quickly rocketing the alternative rockers to mainstream success. Known for recording numerous themes most notably The Daily Show with Jon Stewart, and the GRAMMY-winning Malcolm In the Middle theme, the band has 2 platinum albums, 2 gold albums, and have been nominated for 3 GRAMMYs, winning two.
Nanobots is being released on March 8th